2012 SIJHSAA
Girls Individual Bowling
State Tournament
Saturday, March 17, 2012
Location:
St. Clair Bowl
5950 Collinsville Road
Fairview Hts, IL
Individual Girls Division

1.

Madison Kasza

Fulton/OF

2.
Cassidy Ray
Herrin
3.
Ashley Chaney
Herrin
4.
Alyssa Holcomb
Carriel/OF
5.
Rachel Henson
Herrin
6.
Lily Ballard
OLMC/Herrin
7.
Eryka Graham
Alton
8.
Madisyn Juenger
Collinsville
9.
Maddy Carey
Herrin
10.
Karissa Kantner
Salem
11.
Zoe Howell
Collinsville
12.
Ashley Heistand
Alton
13.
Alexis Warnecke
Wolf Branch
14.
MaKayla Smith
Highland
15.
Lauren Hays
Salem

Tournament Manager: Mike Imes
(O'Fallon High School Bowling Coach,
IESA Bowling State Tournament Consultant,
IHSA State Tournament Manager & Manager St. Clair Bowl)
Tournament Host: Carriel Jr. High School – Tracy Lauderdale, AD
Entries: (4) Girls may be entered from each member school on a
first come – first serve basis. The maximum number of entries is 100 girls.
Division: Individual Girls
Format: 2 sessions of 3 games with total pins deciding the winners.
Tournament Schedule:
Coaches Meeting 9:00 am
Opening Ceremony 9:30 am
Bowling Starts 10:00 am
By Laws: A committee with Tracy Lauderdale (Carries), Darrin Houch
(Collinsville), Greg Hale (Director) and Mike Imes would devise the
By Laws for the sport.

Bowler Costs: $20 per bowler entered. (Pays lane fees for the 6 games)
Association Fee: $30 entry for this sport just as others entered in the SIJHSAA.
This will be collected with the Intent To Play Card for 2012.
This will be e-mailed out on Dec. 1, 2011.
Awards: The top 15 individuals in each division would receive medals.
Admission: $5 Adults and $2 for Students 8th grade and down.
Concessions: St. Clair Bowl on site.
T-Shirts: $10 per shirt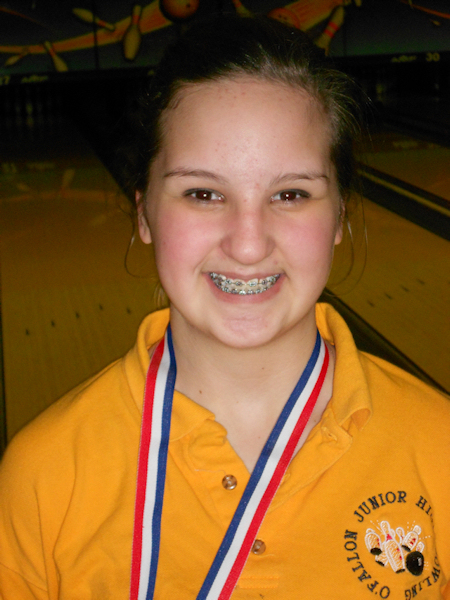 Girls Individual State Champion - Madison Kasza - Fulton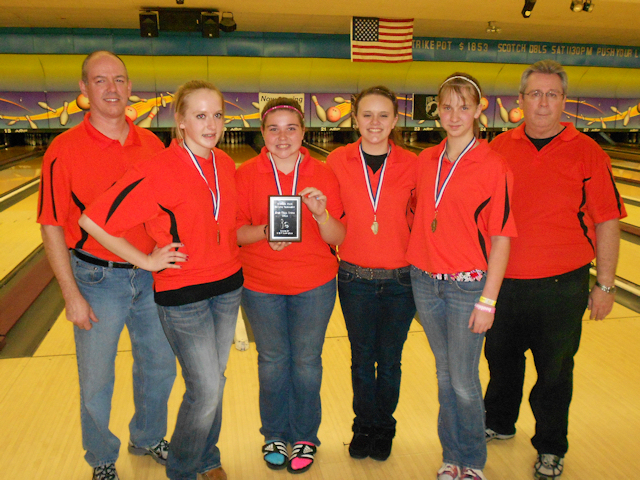 Girls High Team - Herrin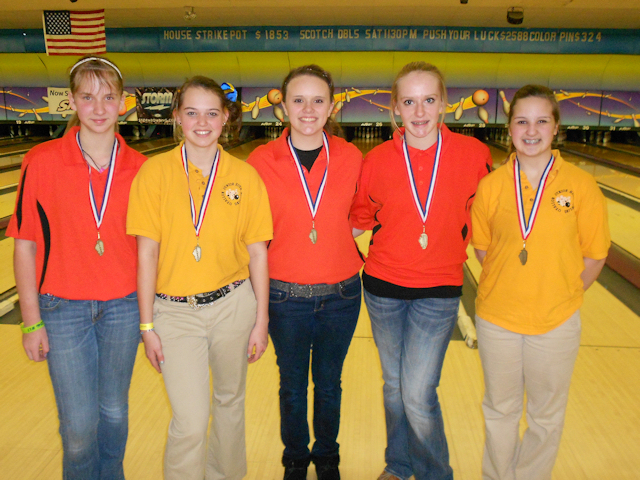 Girls Individual left to right 5th to 1st
| | | |
| --- | --- | --- |
| 1. | Madison Kasza | Fulton/OF |
| 2. | Cassidy Ray | Herrin |
| 3. | Ashley Chaney | Herrin |
| 4. | Alyssa Holcomb | Carriel/OF |
| 5. | Rachel Henson | Herrin |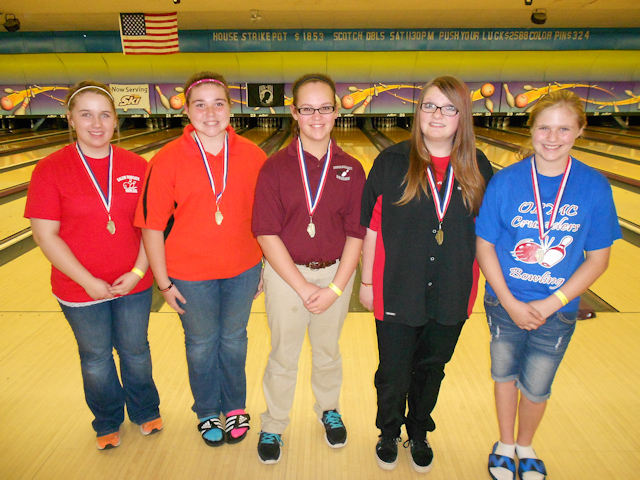 Girls Individual left to right 10th to 6th
| | | |
| --- | --- | --- |
| 6. | Lily Ballard | OLMC/Herrin |
| 7. | Eryka Graham | Alton |
| 8. | Madisyn Juenger | Collinsville |
| 9. | Maddy Carey | Herrin |
| 10. | Karissa Kantner | Salem |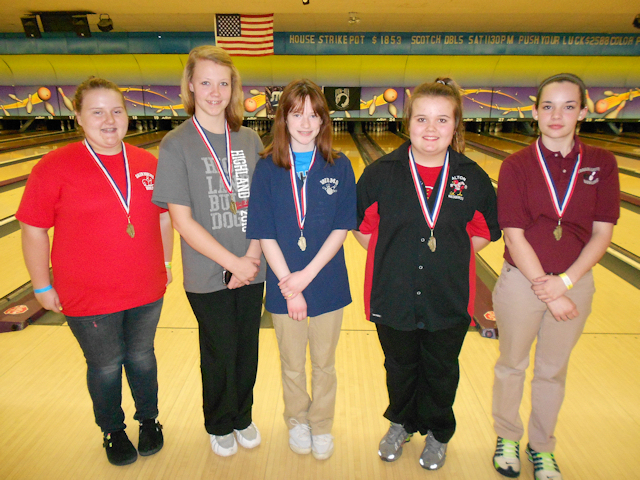 Girls Individual left to right 15th to 11th
| | | |
| --- | --- | --- |
| 11. | Zoe Howell | Collinsville |
| 12. | Ashley Heistand | Alton |
| 13. | Alexis Warnecke | Wolf Branch |
| 14. | MaKayla Smith | Highland |
| 15. | Lauren Hays | Salem |